There is something unmistakeably romantic about a red rose. I took a variety of ring shots at this wedding, but this is the one that is standing out to me the most right now.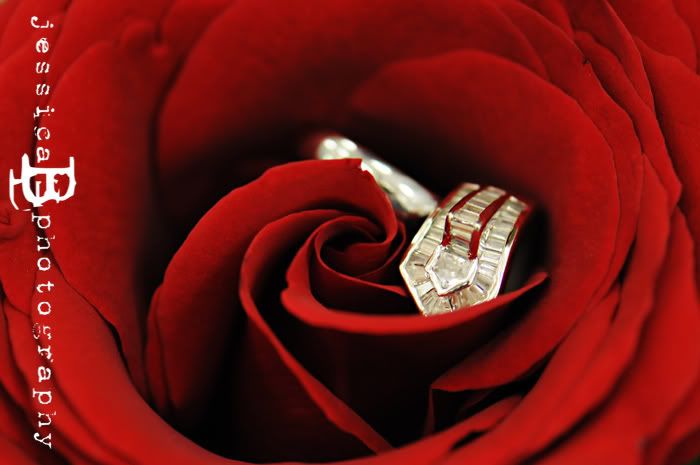 Don't you loooove the bride's shoes?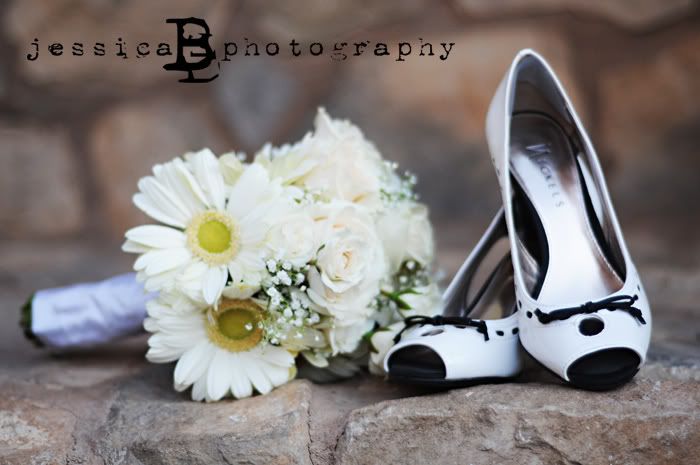 This is the Groom's Cake – a tower of Hostess Cupcakes! All the kids at the reception were in Heaven. It is so fun when couples really make the wedding celebration their own. The official wedding cake had Mickey Mouse heads discreetly piped onto the sides of the cake. A previous bride & groom ditched the cake altogether and served root beer floats at their reception. I love the personality that can (and should) be injected into a party such as this. This bride was no exception. She knew what she wanted and she's an excellent planner/coordinater/director. I was very impressed with how smoothly the day went. 🙂
Another fun idea of the bride & groom's – have the "sign-in book" be a piece of furniture! It has a functional purpose – it's a table – and a sentimental purpose – it's a constant reminder of their wedding day and of all the love & support their wonderful friends have for them. They also had a "picture booth" at the reception. There was a curtained-off area with hats, leis, feather boas, and all sorts of fun costume-y things. There was also dry erase boards to write captions on! So the guests could get dressed up, write a funny remark or a nice congratulations, and have their picture taken with their best smile or their silliest face. What fun for the guests!!
Girlfriend, you are stunning!