I loooooove siblings at births. If you are on the fence about whether or not to have your older children at the birth, please consider it. At least have them close by so they can come and go as their comfort level (and yours) will allow. I know some of my favorite shots from my own births are of the older children and their reaction & interaction with the new baby. Plus, it is kind of a once in a lifetime experience for them – how often does a 6, 10, or 15 year old get to witness a live birth that is their sibling? It is an incredible learning opportunity and a time to family strengthen bonds. Birth is such a special time.


Erika was blessed to begin labor at about 38 weeks. Her three daughters were eagerly awaiting the arrival of their brother and wanted to be a part of the labor process. Although it was already late when I got to Erika's house, no one was sleeping. Erika had surrounded herself with her ever-supportive husband and daughters, a great midwife and her assistant, and myself. She also hung her affirmation banner above her birth pool with a wind chime that was created with beads gifted from friends and loved ones in honor of her new baby boy.


10:06pm Labor is hard work.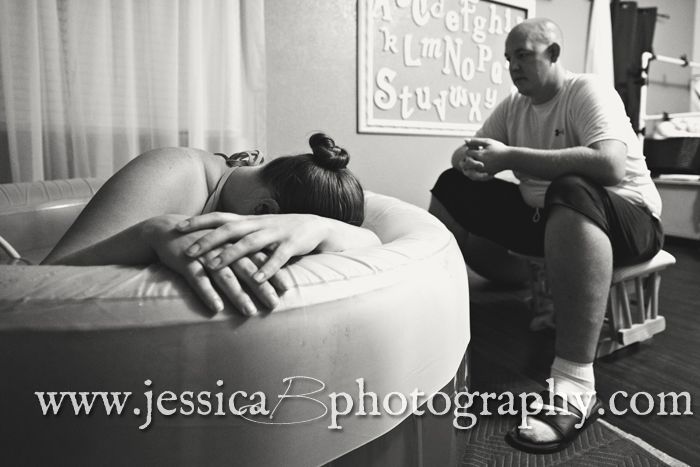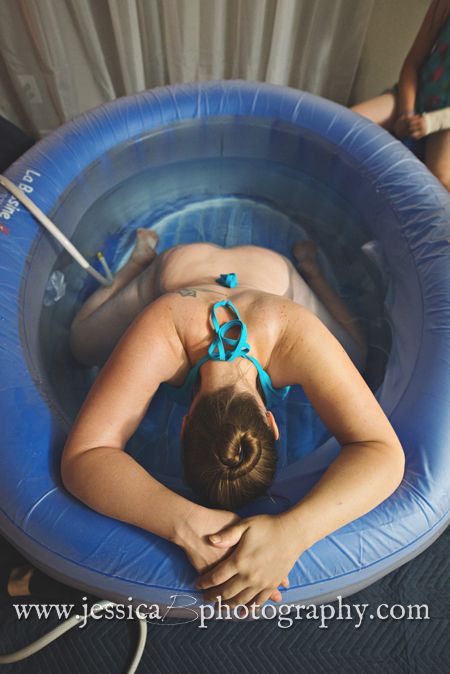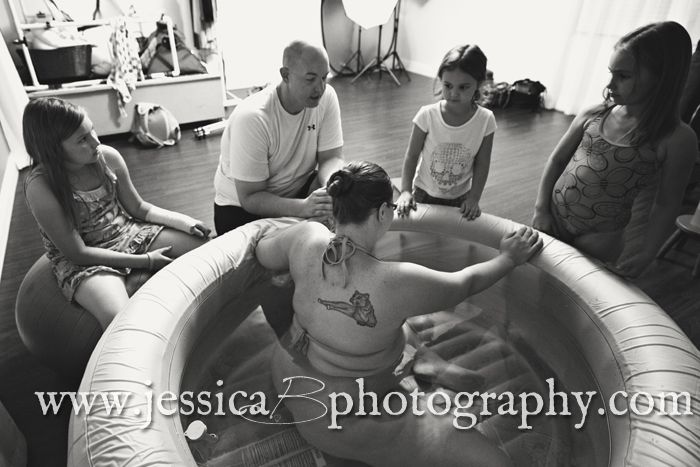 11:00 Thinking… processing… contemplating… in between contractions.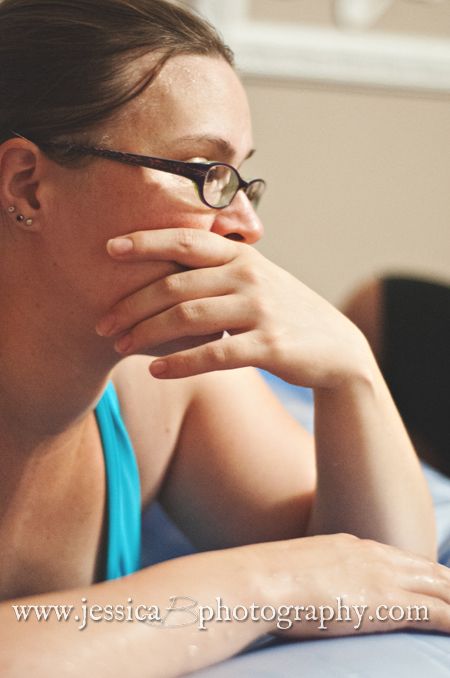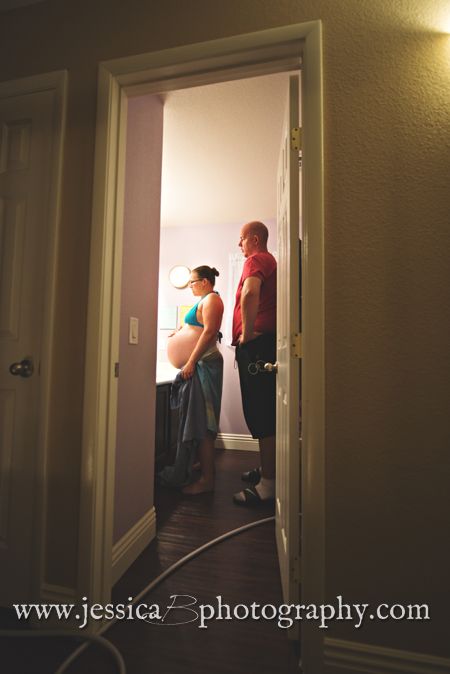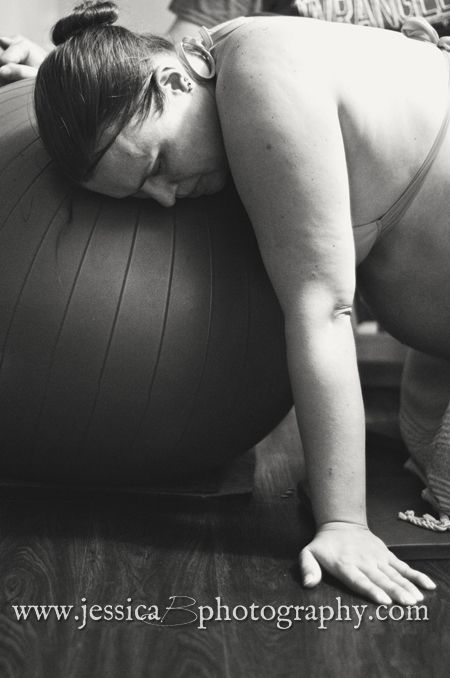 11:50pm Most of the girls are still awake.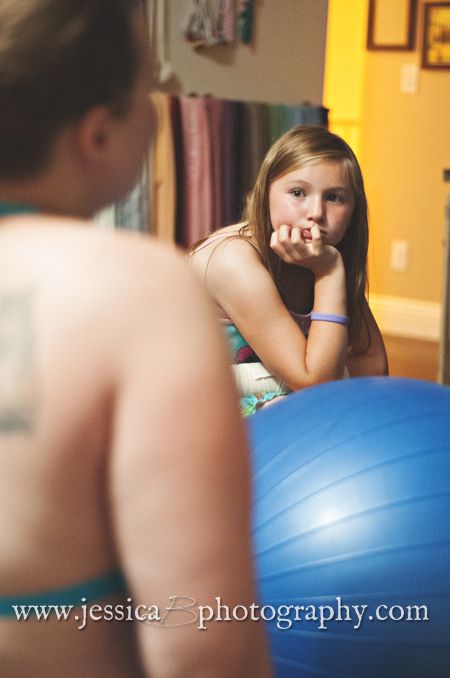 Most of them 😉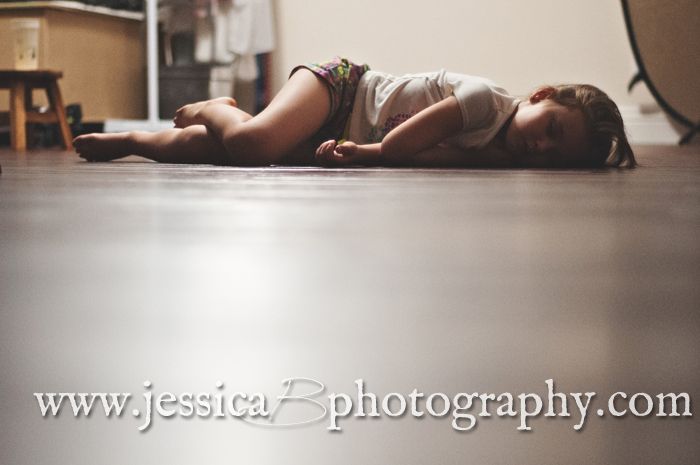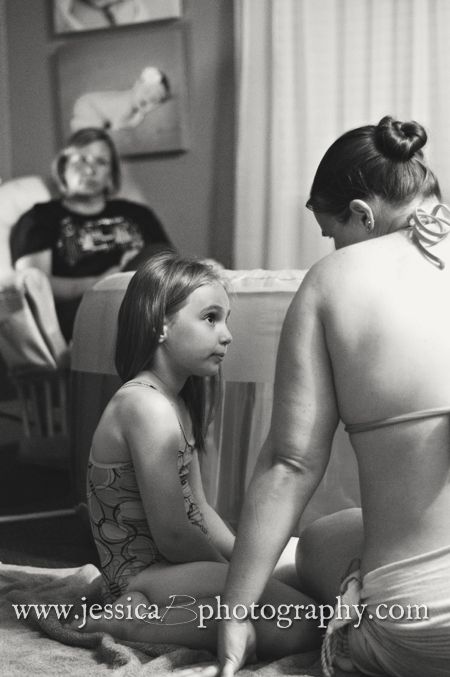 After assessing the situations, Midwife Kim Trower decided it was probably too early for us all to be there. Since baby was not going to make his entrance, we went home for a good night's rest. Erika tried to sleep. Contractions continued on through morning, although still somewhat erratic and inconsistent. Then, Erika's water broke. Then, she had a baby. It really was only a few minutes after her water broke, which means she really didn't have time to call anyone! Surprisingly, Erika's baby was born without the midwife present! Having been to some long births and seeing how exhausted the mothers get, when Erika called and said "We have a baby!" I was so happy for her that she wasn't having to endure that kind of a labor. I didn't even mind that I "missed" the actual birth because I was so glad that Erika had had an such an easy delivery!
1:16pm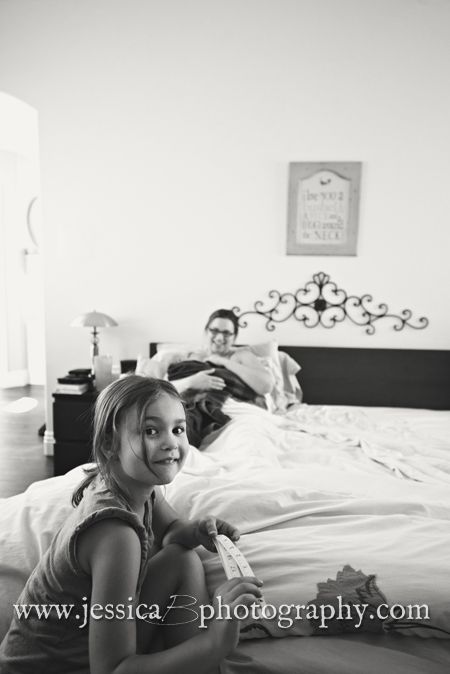 See how awesome it is to have siblings around? They can help weigh!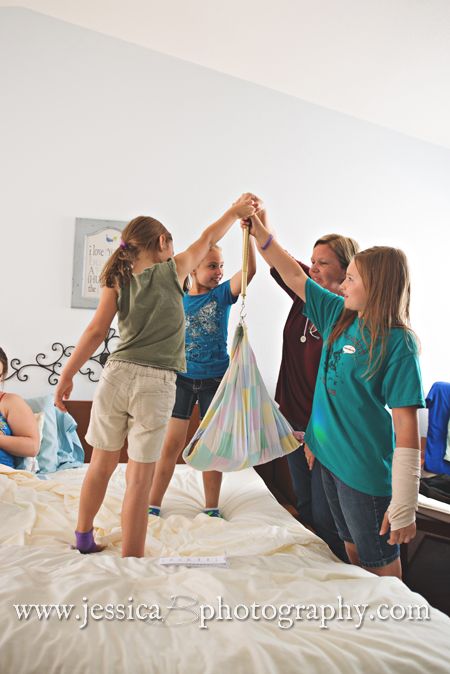 And listen to heartbeats.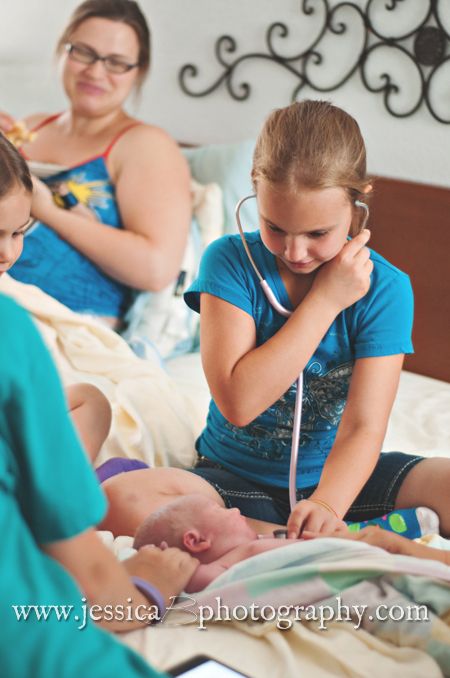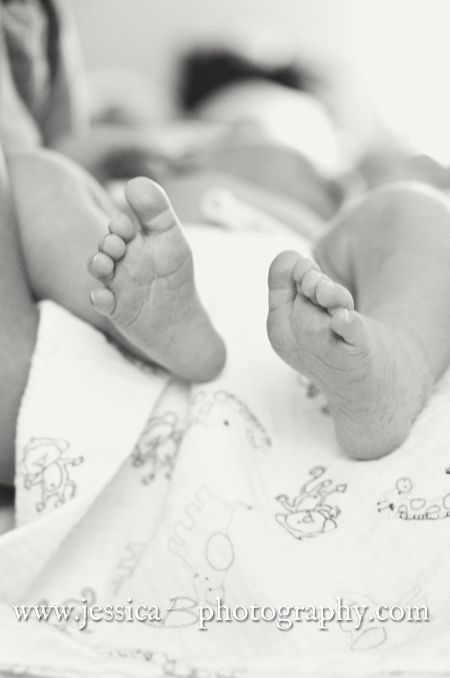 And help with the first bath. One of the daughters even wanted to inspect the placenta!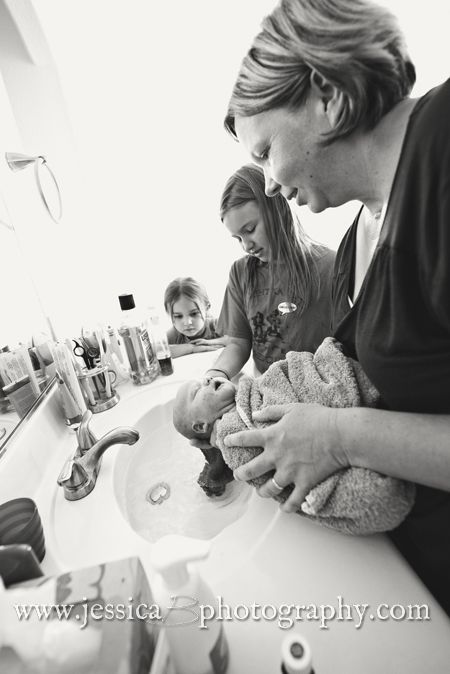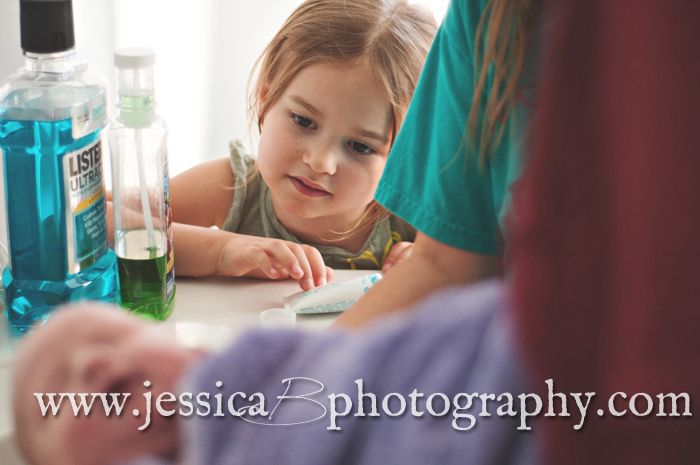 Love her face!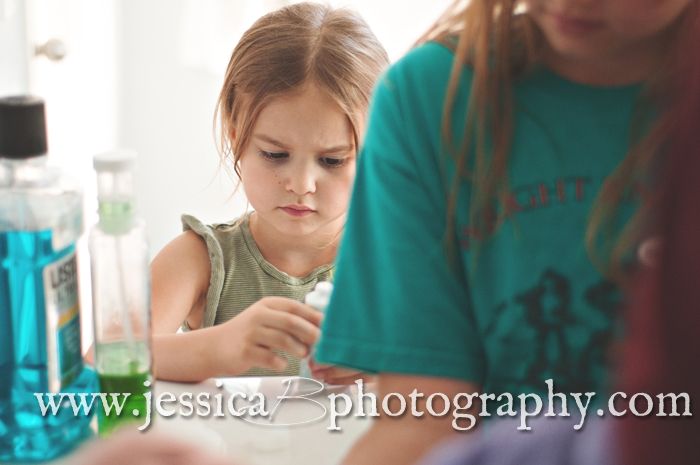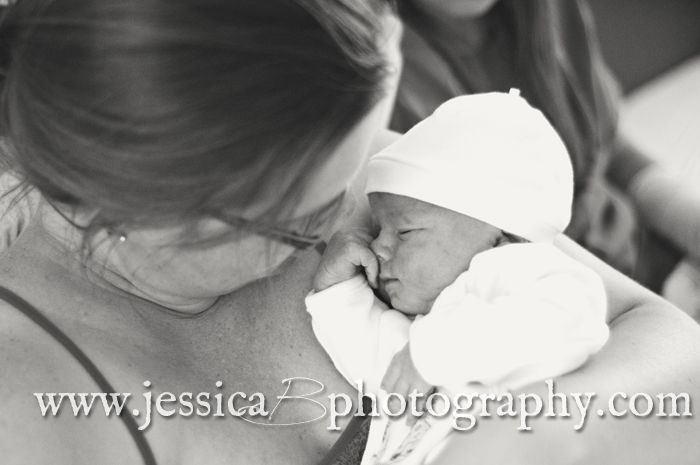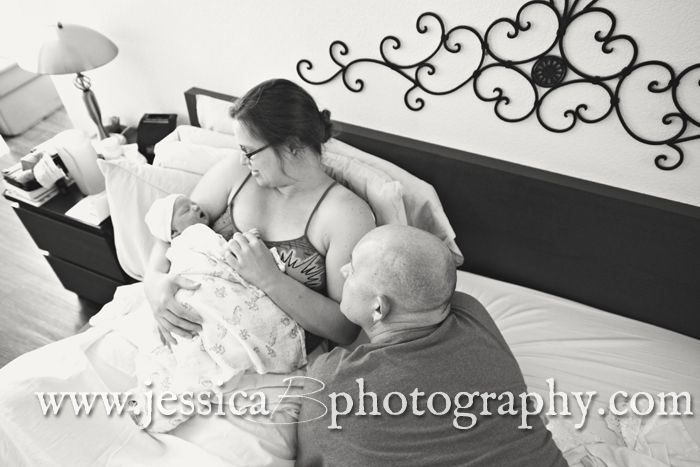 Congratulations Erika! You have a beautiful family!

Erika of E3 Photography photographed my last birth which can be seen here.